We start by meeting with you to discuss your overall use of computer technology. We explore how your organization has used computer technology as well as what you are currently using it for. We also discuss where you see computer technology working for you in the future, and how your organization intends to grow and apply these sciences for your competitive efforts.

In this meeting we also introduce you to SurfN Development Corporation and the relevant Pineapple Code software service systems.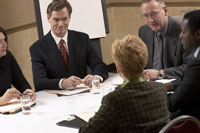 We may also bring good ideas to the table, and explain how we see these computer technologies working for you. We can explain our perspective in regards to the three generations of computer science, and where we believe the new technology is going to take us. You will come away from this meeting with a good understanding of how you can benefit from computer technology developments and how your organization will be affected in the years to come. We have a great deal of experience to share with prospective clients and those that participate in these meetings come away, satisfied that it was time well spent.

We can come to your location and discuss how Pineapple Code can help your business. If you agree and would like to know more we will return with a written project description for your consideration.