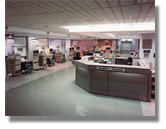 If your medical office is small or large:

Build your business with quality and let Pineapple Code deliver your technology.

Pineapple Code's On-Site Customer Service assures a good start and follow through. If you are migrating from DOS, Windows patchwork, or buying your first computer, Pineapple Code can get you into today's technology successfully.
Pineapple Code systems are complete, and all the elements are entirely written to fit seamlessly. Experience the difference between Pineapple Code Systems and those patchwork programs that are supposed to "work together", and you will see why we say, "Relax and enjoy your business with better technology."
HIPPA Compliant
NACHA Compliant
Federal E-Discovery Laws Compliant
"Dear Alan,

...Further, I wanted to acknowledge the level of cooperation and assistance that we received from SurfN during our transition with Elite Your personal involvement is much appreciated.

Warm Regards,"

Dan Deitemeyer, Vice President Citi Commerce Solutions